While it's important to wear sun protection every time of the year, warmer weather can jog our memory of this important aspect of skin care. Now that the snow is melting and the temperature is cresting 60+ degrees, now is a good time to restock your medicine cabinet and purse with sunscreen options. But where to start? How can you be sure to know what works for you and what you need based on your lifestyle? With Debony Salon's range of COOLA Sun Care products and knowledge, we have you covered!
When it comes to sunscreen, there are two general categories that sunscreen can fall within; Chemical or Physical.
Chemical sunscreens act as sunlight absorbers, where-as Physical sunscreens act as sunlight blockers. This difference means that Chemical sunscreens absorb sunlight and UV rays, and then convert those rays into heat. You then release this heat through your skin. Physical sunscreens rely on active ingredients such as, Titanium Dioxide and/or Zinc Oxide, to deflect and create a barrier against the sun's UVA and UVB rays.
COOLA Sun Care family offers Chemical sunscreen through its Classic Sunscreen  and Physical Sunscreen through its Mineral Sunscreen.
COOLA's Classic sunscreen is designed to absorb and dissipate UVA/UVB rays. It should apply 30 minutes before sun exposure. It's best used for athletic activities or activities where you will be sweating more than normal and therefore will need a sunscreen with components that can "lock" itself to your skin more than a Physical sunscreen could. COOLA's Chemical sunscreen comes in a spray bottle, which makes application easy.
Its Physical sunscreen is designed to scatter and reflect UVA/UVB rays and offers immediate protection after applying. It nourishes, protects, and helps control shine. COOLA's Physical sunscreen comes in tube form and doesn't leave any white residue on your skin.
Wait…what is the difference between UVA and UVB rays? UVA and UVB rays designate the length of the wave of each ray. UVA is a long wave ultraviolet A wave and UVB is is a short wave ultraviolet B wave. The sunlight that reaches us is made up of two types of harmful rays: long wave ultraviolet A (UVA) and short wave ultraviolet B (UVB).
UVA rays penetrate deep into the dermis, the skin's thickest layer, while UVB rays are responsible for superficial burning of the skin.
Exposure to both UVA and UVB rays can cause aging of the skin and weakening of skin's elasticity and suppression of the immune system. Exposure to UVB rays specifically is a contributor to skin cancer. This image, presented by COOLA Sun Care, is a great visual to describe the way UVA and UVB rays penetrate the skin.
Ok, so now that I know how harmful the sun's rays are, how do I know what sun care products are right for me? And what's the deal with SPF?
These are all great questions.
SPF stands for "sun protection factor." The SPF number is a classification that determines the sunscreen's ability to deflect UVB rays. The SPF number is calculated by comparing the amount of time needed to burn sunscreen-protected skin vs. unprotected skin. In simpler terms when compiling research on sunscreen, researchers compared people wearing sunscreen to those who weren't  and had them sit in the sun. Researchers compared the data of how long it took the participants wearing sunscreen to burn versus the ones who weren't wearing sunscreen.
So for example, within this experiment, if it took the non-sunscreen wearing participants to burn within 20 minutes, those wearing an SPF 30 sunscreen would allow them to stay out in the sun 30 (SPF 30) times longer than those not wearing sunscreen. This means that by wearing SPF 30, it should give you approximately 600 minutes or ten hours, (SPF 30 x 20 minutes exposed to sun) of protection in the sun. The same math could be applied to SPF 50. If you're wearing SPF 50 and are in the sun for 20 minutes, you should have 1,000 minutes or 16 hours of sun protection.
Of course, there are many factors that come into play with the intensity of sun's rays including cloud cover, the time of day, and the reflection of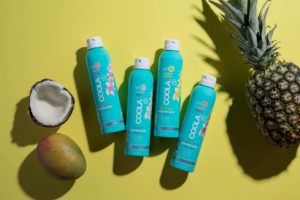 UV rays off the ground, so it's generally recommended that you reapply sunscreen every two hours (or even sooner). It's ours and COOLA's recommendation to use a broad spectrum SPF 30 or higher to protect not only against sunburn, but reduce the risk of skin cancer and premature skin aging caused by the sun. To ensure maximum SPF coverage, apply generously over exposed skin, usually about 1 oz for the full body, or at least a quarter teaspoon for the full face.
When it comes to choosing the right sun care products for you, Debony Salon has you covered with COOLA products!
The first question is, do you prefer a Chemical or a Physical sunscreen? Will you be wearing this sunscreen mainly for bike rides or working in the garden? Or are your SPF needs more for daily wear and walking to and from your car or to the grocery store, etc? If it's for the former, a Chemical sunscreen in the form of COOLA's Classic sunscreen may be better for you. If it's the latter, a Physical sunscreen in the form of COOLA's Mineral sunscreen is the right choice for you.
Do you prefer SPF 30 or 50? How often do you want to reapply your sunscreen?
How do you feel about scents? COOLA offers a wide range of fragrances within its sunscreen line-up ranging from the refreshing Cucumber to White Tea to the more floral and fruity like Plumeria or Pina Colada. COOLA also offers fragrance-free suncare as well.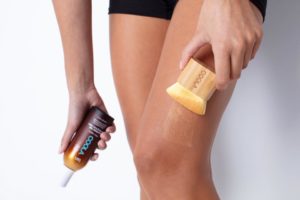 Are you looking to protect your skin from the sun, but still keep a golden tan all season long? COOLA has you covered with sunless tanning products as well that offers sunshine in a bottle. Products such as COOLA's Organic Gradual Sunless Tan Firming Lotion, which is an organic moisturizing self-tanner lotion that you can use as often as you like! Use it as your daily body lotion to maintain a low-key tan year round.
Similarly, COOLA's Organic Sunless Tan Luminizing Body Serum instantly illuminates for a shimmery, sun-kissed radiance while developing abuildable, natural-looking tan over time. Fine pearlescent mica naturally accentuates and highlights for a sunlit golden shimmer, while sugar-beet derived DHA gives skin that post-vacation radiance any day of the year.
For a complete offering of our COOLA Sun Care products at Debony Salon, come in and test these products out for yourself and ask us questions. We have a complete offering of COOLA make-up, lip protection, sunscreen and sunless tanning.