NH DOT Honeymoon Bridge Wedding Inspiration Shoot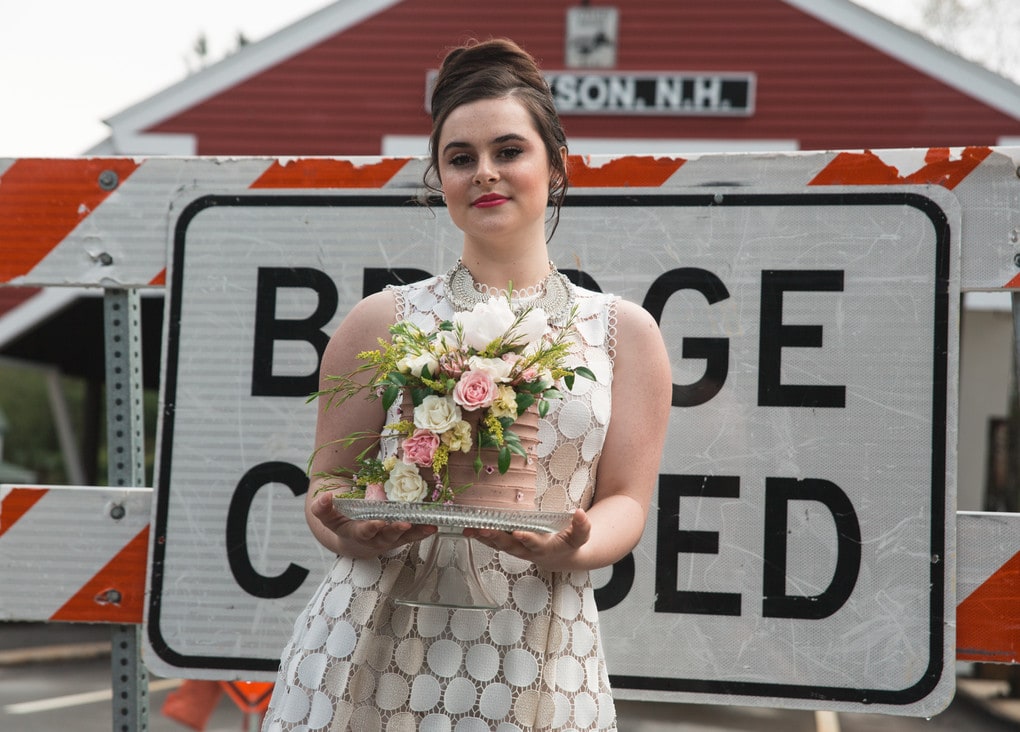 The iconic Jackson Honeymoon Bridge closed in late March for three months to focus on routine maintenance. This bridge is a destination for
wedding photos and a prime location to capture initial wedding photos after a bride and groom say "I Do." This bridge and the photo-ops it provides can also sometimes be a deciding factor for engaged couples when it comes to choosing a location for their wedding. Many of the valley's brides and grooms eagerly anticipate taking a photo with their beloved in front of the bridge with its recognizable details faded in the background.
You can imagine the heartfelt disappointment many of our spring brides felt to know that this treasured bridge was blocked with cement blockades, orange cones, construction trailers and "Bridge Closed" signs. With their wedding photography dreams altered, bridal parties were turned away and displaced.
As locals, many of us wondered, "what do couples do when they've hung their hearts on those once in a lifetime photos on honeymoon bridge and it's closed for construction?!"
While Debony Salon truly felt for the disappointment of our wedding parties during this time, we were also inspired by the industrial nature of what our bridge was going through.
Influenced by the crew from NH DOT who worked so diligently over the span of three months turning this once romantic little bridge into a full blown work site, Debony Salon created multiple bridal looks to go along with the bridge's new identity. The looks our stylists created were industrially inspired and architectural in nature. Playing off of the grey, oranges and greens from the construction site we decided to find beauty in the breakdown and use the bridge's construction to our own bridal advantage!
View our complete gallery of looks created by Debony Diehl, Tarmey Ross, Sara Goulet, Krista Hayes, Cassie Capone and Jaimie Crawford.
Photography, Abbey Donaldson, Graphics Art Teacher, Kennett High School
Kennett High School Graphics students; Willow O'Keefe, Jesse Dembinski and Jacob Reid.  
Cake,  Jaime Melfi of Autumn Nomad,  
Bridal bouquet made of structured safety pins and homegrown flowers handmade by Jackie Gardner of Moonset Farm
Models: NH DOT Bridge Crew, authentic and not just characters! (These DOT guys have been great, other than the infrastructure and a friendly hello, you wouldn't have known they were even there for the three months they were working on the bridge!), Mike Gardner, Autumn Sanphy, Maiglin Maclead, Annie Whirli, Kelly Otis, Zoey Martins and Caitlin McPherson
Hair and Makeup by Debony Salon Styling team: Tarmey Ross, Jaimie Crawford, Sara Goulet, Cassie Capone, Krista Hayes, and Debony Diehl.