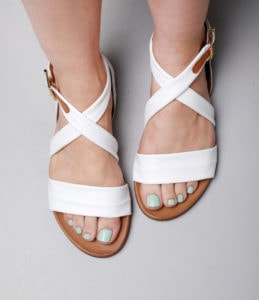 Let's get real…right about this time, it's all about the winter blues and getting those feet ready for spring.
If you're like most of us, you know what "winter" feet are in one word…DRY! Dry skin isn't usually serious, but it can be uncomfortable and unsightly. With the cold weather bringing dry air and leaving our skin lacking some major hydration. We see it in our hair, our skin, and our nails. If you're like me and have a wood stove, then you can relate that hydration doesn't exist in our worlds.
We try so hard to lather up on extra moisture during these months; maybe adding in a deep conditioning treatment or some body oil after a shower. However, our feet tend to get neglected, and the dry rough skin builds up causing our feet to just feel "gross". Spring is here, even though in New England that doesn't mean pulling out the sandals and t-shirts just yet.  However, now is the time to get those feet ready by giving them some well needed attention. Come on over and see us. We would love to get those tootsies in the right path to moisture. We are offering an amazing Moroccanoil Pedicure that is sure to bring those feet back to life. A callus removal and exfoliation is exactly what you need; followed by the deep penetration of an Argan Oil Treatment and a rich Shea Butter Cream.
Another amazing way to add moisture back is having a paraffin treatment. Paraffin wax is a natural emollient, helping to make skin supple and soft. When applied to the skin, it adds moisture and continues to boost the moisture levels of the skin after the treatment is complete. It can also help open pores and remove dead skin cells. That may help make the skin look fresher and feel smoother. We can add a paraffin onto any nail service (hands or feet) or you can just come in and relax and have it as a stand alone service. It's so relaxing and feels amazing!
Of course to top it all off, we can't forget about a beautiful spring polish, something bright and cheerful. Arriving soon is the Dazzle dry spring collection with some very beautiful colors.  Or even going for a 
nice fresh clean look with a high shine buff.
Come have a cup of coffee with us and some girl talk. We'd like to make your day because in making your day, it makes ours!
☆ Julie