Debony Salon, is graduating its seventh Apprentice, Jaimie Crawford, from its Apprenticeship program! Crawford's graduation marks a turning point in this program, and Debony Salon will be opening its doors to more Apprenticeship Opportunities in hopes of creating an educational hot-spot where applicants can learn to become licensed Cosmetologists and Estheticians at home in the Mt. Washington Valley.
The state of New Hampshire recognizes Debony Salon as an Apprentice Teaching Salon, where a 3,000 hour program is taught that focuses on the law, safety and sanitation, and art of Cosmetology. 
As an Apprentice, over the span of 3,000 hours, Jaimie Crawford worked through different practicals that encompassed hair, skin and nails, and she heads to the State Board of Cosmetology to take her official licensing exam. The team at Debony Salon wants to extend its congratulations to Crawford, and encourages guests to check a service out with her. "I am truly excited to see Jaimie become a cosmetologist.  Her desire to learn, grow, and create has unfolded in front of us.  Her future clients will benefit fro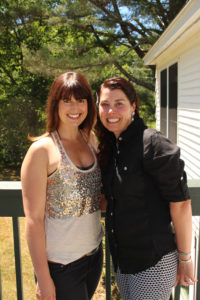 m her keen eye and artistic ability," says Debony Diehl, Apprentice Instructor and Owner of Debony Salon.  
The expansion of this program is reflected in Debony Salon's mission statement, which includes a commitment to ongoingeducation and training new talent in-house. Debony Salon currently has open enrollment for new Apprentices and is seeking applications until July 30, 2018. Licensed Cosmetologists are also welcome to apply for immediate employment and join Debony Salon's growing team. 
"The Apprentice program is such an amazing opportunity in the valley. Not only did I learn how the art and science behind Cosmetology, but this program pushed me to become a better version of myself. It drove me outside of my comfort zone and taught me a whole new set of skills, that ranged from inter-personal to creative. I am so thankful for the time and energy Debony and her staff invested in me to bring me to this point. This program has opened up the door to build a sustainable and dynamic career in an area that I love to live in," says Jaimie Crawford. 
For those interested in the Apprentice program, or licensed Cosmetologists looking to apply for immediate employment, visit DebonySalon.com/Employment. Applicants should send a cover letter and resume to debony@debonysalon.com.