[vc_row][vc_column][vc_column_text]Who knew that what I want out of life, directly correlates to what I want out of my Cosmetology Apprenticeship? It's not  all just bookwork, observation, practicing on willing bodies and accruing my 3,000 hours. It's also about surfing lessons, competing in an Iron Man, and, editorial photography.
Currently, my Apprenticeship is marked by the first four, preliminary chapters in the Milady Standard text-book. It's important to set the foundation with Cosmetology history and  basic salon business principles. It's here, where Debony also has me reflect on how I fit into those principles.
The questions she asked consisted of my short and long-term goals, my weaknesses and strengths and how I felt they would enhance Debony Salon and my own career. Once I answered the questions, Debony and I scheduled a sit-down to go over them.
Wanting to put my best foot forward, I answered as perfectly as I could. All of my short and long-term goals had to do with building my clientele, learning how to color match and entering hair and make-up competitions. I eagerly waited for Debony to review my answers, and when we sat down, she said with a big smile on her face, "I was hoping for goals with a bit more meat on them!"
She continued, "I think everything you wrote down is great and worthy of reaching, but what about outside of the salon? What do you want to accomplish there?"
I gave her my best "deer in headlights" look, and had nothing to respond with.
Debony followed up by saying "it's important to stay engaged with life and have things in your personal life that define you. That way you'll always appreciate your work and stay inspired."
Once she said that, the things I had always wanted to try, but could always come up with excuses to not, came pouring out of me. I've always wanted to learn how to surf, and I started a painting five years ago that I never finished and while I own a fancy camera, I have no idea how to use it. I'd like to change that.
When I was done listing all of the things I wanted to do outside of the salon, Debony then said,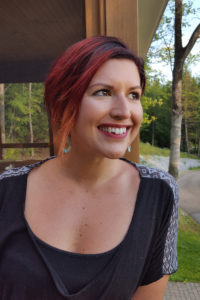 "It sounds like you have an interest in the arts. You seem to really embrace color and your interest in photography leads me to believe you might be attracted to make-up application."
She was right.
From there, we set the next block of my Apprenticeship, by going over the entire line of Jane Iredale make-up that Debony Salon carries, which also included a one-of-a-kind make-up application by Debony herself!
Did I mention I also have a surfing lesson, coming up this weekend?![/vc_column_text][/vc_column][/vc_row]