We're excited to present a completely new treatment that has been formulated specifically for our back-bar: the L'anza Ultimate Treatment.
This treatment is an in-salon treatment that can't be replicated at home with every-day shampoos and conditioners. It's a three-step treatment made up of a chelating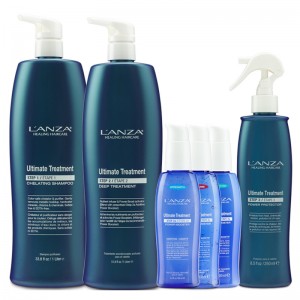 shampoo, deep treatment and a protectant. This service can be added to any hair cut or color or can stand on its own as a treatment with a deluxe blow-dry.
The Ultimate Treatment is a missing link we've been waiting for when it comes to our hair services. It's particular strengths lie in the chelating shampoo's ability to purify hair from hard water, chlorine, and medicinal and product build-up; as well as its specific treatments that address moisture, strength or volume repair.
The Ultimate Treatment begins with the chelating shampoo and is followed up by the "Deep Treatment," which is is nutrient infuser that restores essential protein, moisture and minerals to hair. Based on a consultation with you, your stylist will combine the 'Deep Treatment" with a serum that addresses:
Moisture Repair, for hair that is dry and rough and can improve softness and shine with humectants, emollients and essential fatty acids. Some of the key ingredients are Hyaluronic Acid, Macadamia Nut See Oil, Keratin and more.
Volume, for fine thin hair, it can thicken each hair strand and boost structural rigidity to give hair lift and support. It's formulated with vitamins A, B-1, B-12, C, E, K and more.
Strength for fragile and brittle hair, this formula contains a super-charged dose of proteins and amino acids to increase strength and reduce breakage.
As Cosmetologists we recommend anyone with a color service to begin their hair appointment with the Ultimate Treatment to ensure their hair is a clean palate and blank slate to absorb their color. It also helps to seal the cuticle and provide lasting shine at the end of the service. It also increases the longevity of color results and improves integrity.
We've been integrating into color services for our clients and are loving the results. We're so pleased with how our client's color looks and how their hair feels, and couldn't be more excited about this addition to our backbar.